New Caledonia Airport
New Caledonia airport is located 750 miles east of Australia is New Caledonia. This French overseas territory is formed of several islands. The island of Grand Terre is the most populated of these islands and is where most tourists will head. A tourist may also wish to head to Loyalty Islands or the Isle of Pines. There are also several sparsely populated islands which offer slightly different experiences.
Somebody who flies into New Caledonia Airport can expect an island steep in culture. As this is a French dependent overseas territory, you can expect French food galore. Things to do tend to err on the 'natural' side of things. This means snorkelling and diving, with the area around the islands being ripe with wildlife. Those who love to hike will be thrilled by the number of camping opportunities available on the island, as well as the gorgeous views that you receive as you trudge along the hiking trails.
If you are travelling to New Caledonia Airport from New Zealand, you will not require a visa. You can stay up to ninety days completely visa free. This makes travelling to the island incredibly simple.
New Zealand to New Caledonia
From New Zealand, there are two different ways that you can reach New Caledonia. One of them will be far more convenient than the other:
The first is to fly to New Caledonia Airport. Flights are run from New Zealand, most of them under the Air New Zealand banner. However, it is worth noting that the flights to the island are not too frequent. Those that do appear tend to be filled up quickly. Therefore, the earlier you can book your flight to the islands, the better.
New Caledonia Airport is also known as Tontouta Airport. It is located 52km from Noumea, the capital city of the islands. Once you land, you will find that there is regular transport between the airport and the capital. However, if you are planning to explore the islands, then it may be wise to invest in renting a car. The roads in New Caledonia are superb and the speed limits are slightly higher than the speed limits in New Zealand. This means travelling around should be a breeze. Yes, there are buses which allow you to travel around the island, but these buses are going to be very unpredictable in terms of their frequency.
New Caledonia by Cruise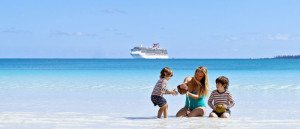 The other option to get to New Caledonia is via a boat. However, only one boat travels from New Zealand to New Caledonia each year. There may be smaller cruises, but the option offered by Heritage Expeditions is probably the most direct route to the island, travelling in April, but there will only be space for fifty passengers on the boat.
It is important to note that the official language of New Caledonia is French. If you are travelling outside of the main tourist locations, you may find it difficult to find somebody who can speak English fluently. Before you travel, it may be wise to brush up on a small amount of French as it will make travelling that much easier.