Fishing while in New Caledonia
Everything you need to know about fishing in New Caledonia. Our travel experts have put together information regarding : 
Different Types Of Fishing Available In New Caledonia
Fly Fishing New Caledonia

Spearfishing New Caledonia

Land Based Fishing New Caledonia

The Exciting GT Fishing
Also we have listed the Top 5 Fishing Charters In New Caledonia who will take care of everything for you.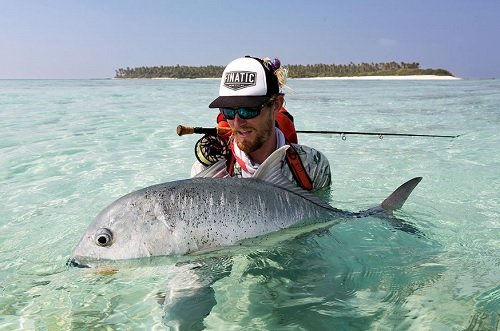 New Caledonia is indeed one of the best fishing destinations around, and going here for a holiday or even just for fishing experience is a great idea. If you are fishing with a guide, it is necessary that you ask them important information, like if they provide amenities such as fishing rods, coolers, bait, and tackle.
The great fishing opportunities should never be missed when in the country, whether you are a tourist or a resident.
One of the best activities to do when in New Caledonia is fishing! Sure, fishing is a great activity to do, it is not only enjoyable but this activity can also be the most productive and rewarding. You never had been to New Caledonia if you have not tried fishing hence this activity should be a huge part in your itinerary. . Download the free fishing guide below 
Different Types Of Fishing Available In New Caledonia
Fishing Experience of a Lifetime 
Those who want to have a great time fishing can achieve it in New Caledonia. The territory is isolated from places where industrial fishing is taking place, and it has good number of marine reserves where fishing is not allowed. Furthermore, large portions in New Caledonia have been marked on World Heritage list. And with that, the area offers great fishing destinations.
Fishing in the Lagoons 
Its lagoon is popular all over the world as it houses a huge mixture of fish. You would never feel disappointed going here for a great fishing experience considering the wide array of fish to fish and see plus the number of charters available to help you achieve a great, successful fishing experience. Whether recreational or sports fishing, you can enjoy it in the country all year round.
There are many ways to fish in New Caledonia and to name them, check below: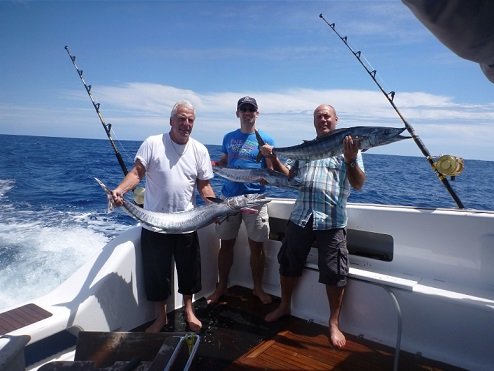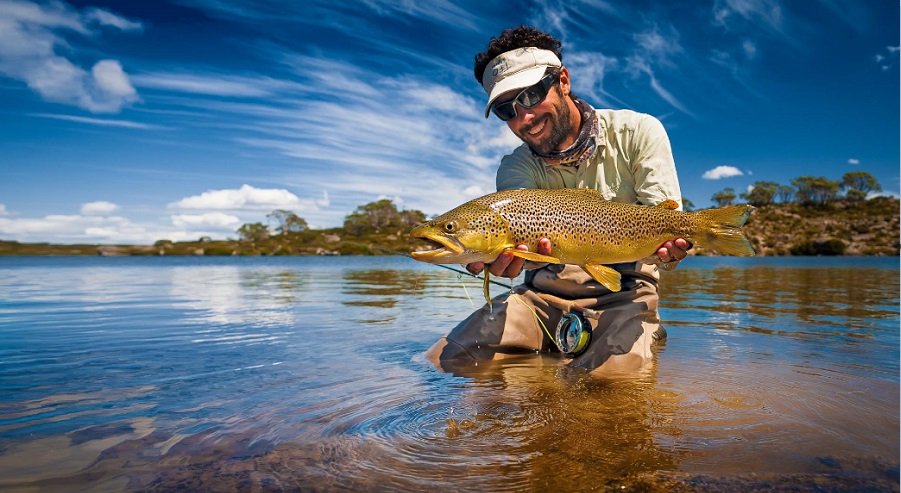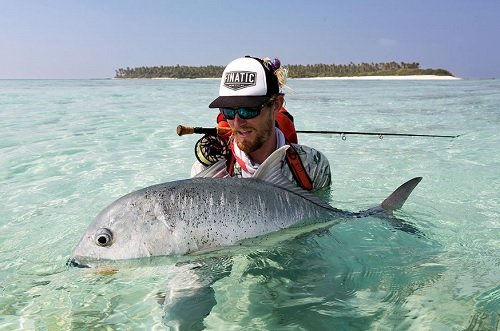 Fly Fishing New Caledonia
This is a perfect fishing style for amateurs, anytime of the year fishing enthusiasts go to New Caledonia to see for themselves why the lagoon is so popular. Here you can fish and see some of the world's largest bonefishes. The best time to enjoy fly fishing in new Caledonia is mid March until end of September, as the sand levels that surface at low tide. No questions asked, New Caledonia is a perfect destination for fishing.
When you are just starting, if you only have zero to basic knowledge in fishing, this type of fishing is a good start.
Things You Need
As a new angler, below are basing things you need to start:
Waders

A fishing vest

A reel/rod

Forceps

A landing net

A bait
All of the above are the basic things you need to fish. Your guide may have them available, but if you are planning to progress in the sport, you can buy your own fishing gears. 
Spearfishing New Caledonia
If this is the type of fishing you are looking for, you will never get disappointed when you do it in New Caledonia. There are a lot of different pelagic, dolphin fish, Spanish mackerel, rainbow runner, job fish, tuna, Dogtooth, Wahoo and Marlin, you can spear using a riffle equipment. You would never leave New Caledonia without giving yourself a chance to try this type of fishing.
Get ready as this can be so exciting and may put you to so much admiration of fishing and turn you to be one of the many fishing enthusiasts. But, make sure you do it in New Caledonia to ensure you will have the best and most memorable spearfishing experience.
Things You Need
Anything you need can be provided by the guide or charter you choose to give you fishing assistance. Needless to say, some prefer to have their own fishing gears. To help you get all the gears for spearfishing, check on the list below:
Speargun: This is one of the most important gears to bring during this activity. This is where you need to invest as not having a good speargun will not let you enjoy spearfishing

Mask: This is a gear most likely purchased by those who consider fishing as a hobby. The mask can be customized according to your face to ensure perfect fit

Fins

Snorkels: For proper hygiene, this gear is best to purchase instead of rent or borrow from charter or guide

Float line, flag and float

Weights and weight belt

Knife

Wetsuit: Since this is a bit more expensive, it is highly recommended that first timers rely on wetsuits from their guides. If you see this activity interesting then you can buy your own wetsuit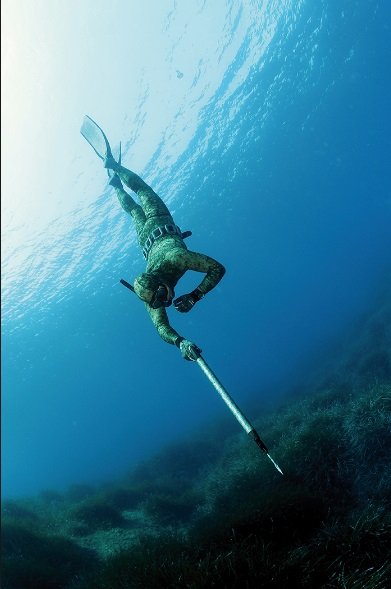 Land Based Fishing New Caledonia
This is another type of fishing you can do when in New Caledonia. This is a sport not only residents of New Caledonia but their tourists play. Instead of the usual fishing technique where anglers will ride in an ocean going boats, they will attempt to catch a big game fish from the shore.
Most of the time, location of such sport happens in a rock platform, but beaches, jetties and wharfs are also possible. The common fishes they target to catch are the larger tuna like yellowfin and bluefin, and the billfish, like sailfish and marlin. But smaller game fishes are also wanted like dolphinfish, wahoo, Spanish mackerel, and also smaller tuna like the skipjack tuna and albacore.  
This is another good way to start fishing in New Caledonia or somewhere else. Those who fear Deep Ocean can enjoy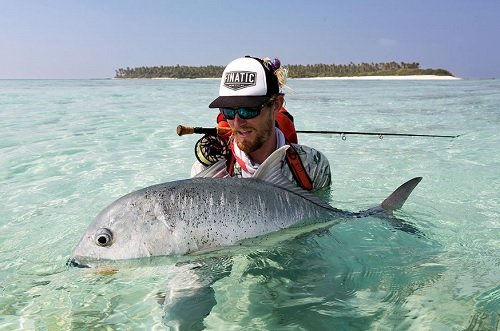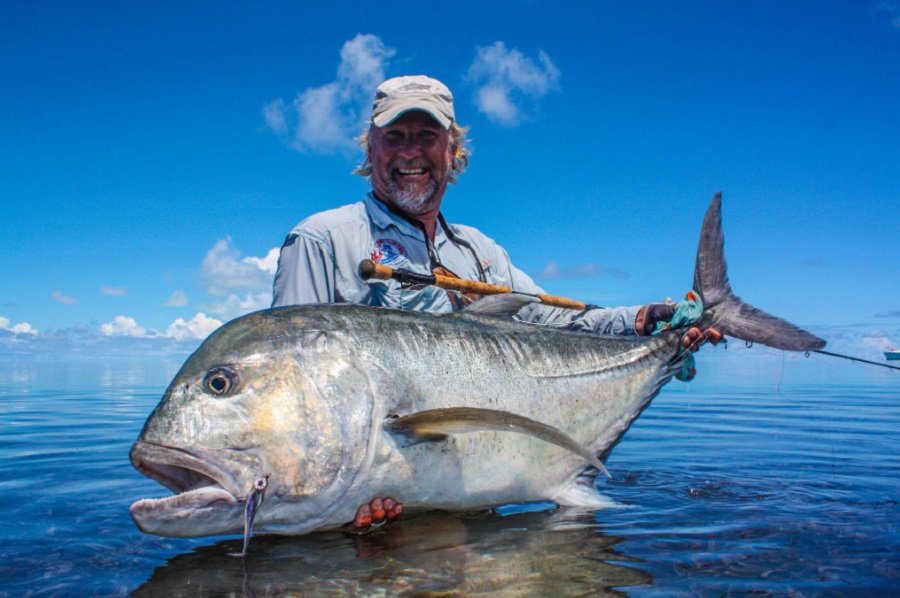 If you are looking for a different kind of fishing experience then catching a Giant Trevally is for you. New Caledonia or for other they call "Land of Giants", will never disappoint those who want to experience this kind of fishing adventure. For the real Giant Trevally, 150 pound of it is equivalent to a marlin of 1000 pound.
Honestly, it is not easy to catch a 150 pound specimen, even expert fisherman may have a hard time or not even experienced catching one, but needless to say, here at New Caledonia, you are somehow near achieving this type of fishing escapade.
You can catch in New Caledonia fishes like grouper, snapper, wahoo, narrow barred Spanish mackerel, yellowfin tuna, dogtooth tuna and some time Maori wrasse. On a regular day, fishermen can catch about ten GT together with different bag of reef and pelagic species.
Although GT is possible all year round, it is from November to March when GT fishing is promising. At this time of the year, you can possibly catch a 150 pound GT that very rare fishermen experience.
This is an experience you should never fail to try when in New Caledonia, if you do, you never maximize New Caledonia experience. You might have tried GT fishing in other places you visit, but it is nothing compared when you do it in New Caledonia.
If you want to try out this activity, it is highly recommended that you do it with a guide. This task is not the easiest hence it is only right that you seek help from experts who can bring you to places where there are GT and be successful catching them.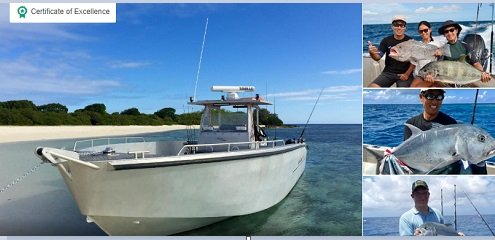 Fishing Charters In New Caledonia
Now that you know it is necessary that you go on fishing when in New Caledonia, it is time to find a fishing charter to assist you. If you are thinking for a Noumea fishing day trip, it is highly advised that you choose a trusted guide that can bring you to the best spots to fish and areas that are allowed for people to fish.  
As previously discussed there are many places prohibited by their local government hence you have to go to a fishing charter that can bring you to the right fishing spots. When you get a guide, you are not only saving yourself from possible charges because of wrong fishing practices but also the chance to have the best time of your life fishing.
Day Trip Fishing in Noumea is good for all ages, families can get into such activity and spend a day together trying out this fun yet challenging activity. The fulfillment you will get when you catch a fish, the happiness you will feel when you learn how to fish and the memorable time you share with your family are reasons enough to make you consider fishing.
Moving on, since fishing is one of the activities best to do when in New Caledonia, and it is one of the best places around to fish because of the many kinds of fishes to catch, there are so many fishing charters people can consider to choose to assist them fishing. It is on the other hand recommended, whether you are experienced or not, as these fishing charters know exactly what people must know to fish happily and successfully in New Caledonia.
These fishing charters can make fishing experience in New Caledonia the most memorable and special. If you failed to choose the best fishing charter, you might end up disappointed and not like fishing at all. Choosing the best fishing charter in New Caledonia is necessary as they can set the mood to aspiring fish enthusiasts. Some may not find their first time experience interesting hence not pursuing the activity.
If you are fishing with your entire family, make sure that you get assisted by the right fishing charter so even your children can see the excitement and entertainment of fishing. 
The charters are all around New Caledonia, and to name some of them, check below: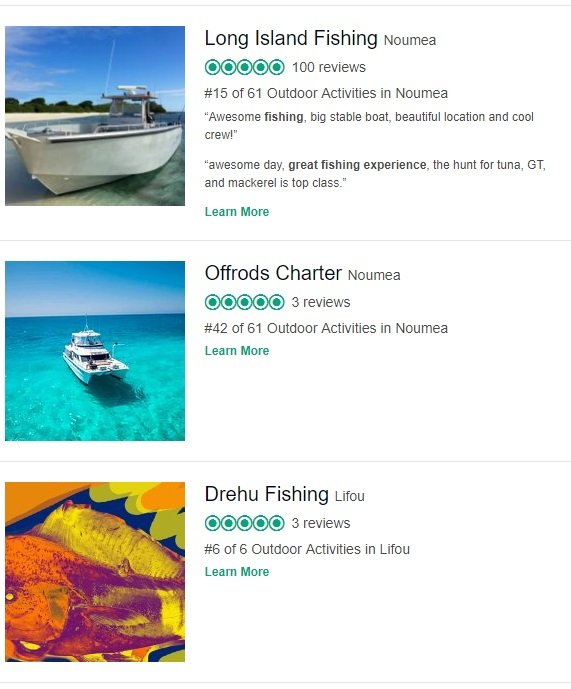 Top 5 Fishing Charters In New Caledonia
Long Island Fishing Noumea
Located at 120 Avenue James Cook Nouville, Noumea, Grand Terre 98800, New Caledonia. They offer their guests the opportunity to fish in the most effective and happiest manner possible.
The offer their guests with huge boats so no rough weather can scare them and that puts them at ease and comfort when going to the fishing destination. They have highly knowledgeable and experienced captains to ensure that everyone in their guest list can catch a fish.
You will not only have fun when you choose them to guide you but also, you will learn this hard yet exciting sport. They offer techniques and tips to their guests so they can catch the best and as many fishes as possible. From beginners to experts, Long Island Fishing can cater to all of them.
You do not have to bring gears as they can provide it for you, you just need to inform them ahead so they can prepare.
Powercat Charters New Caledonia
Another charter to trust when in New Caledonia is the Powercat charter located at Port Moselle – Chalet n2 Noumea, with contact number +687 264211. The trip will be led by the only New Caledonia's International Game Fishing Association captain, Olivier.
They offer their guests not only with fishing services but also half and full day cruises. Talking about fun and entertainment, this is a perfect charter to consider. They will bring you to places that can make your fishing experience extra ordinary.
Their guides are experienced and highly knowledgeable hence you are assured you will have a successful fishing experience with them. This 5 rater fishing charter will definitely give contentment and satisfaction to those who want to try out fishing.
They offer different types of fishing experience to their guests, from land based to GT fishing, just let them know and they can deliver. They have complete fishing gears to use by guests. It is important though that you let them know the gears you need. As previously discussed, it is highly recommended that you bring your own fishing gears like snorkel and mask so you can fish more comfortably.
This charter will bring you to places that can give you an optimum fishing experience. They offer not only sport fishing and offshore with many fishing destinations but also whale watching, lagoon on vacation and sunset evenings. They will never fail those who are looking for the most memorable and fun filled New Caledonia experience.
They are located at Port Moselle Ponton A, Noumea, Grand Terre 98800, New Caledonia. Fishing experience in New Caledonia is never the same with Offrods Charter. They can provide not only fishing gears but also fishing techniques that can help you fish successfully. They will provide you guidelines before and during the trip on how to fish properly and successfully.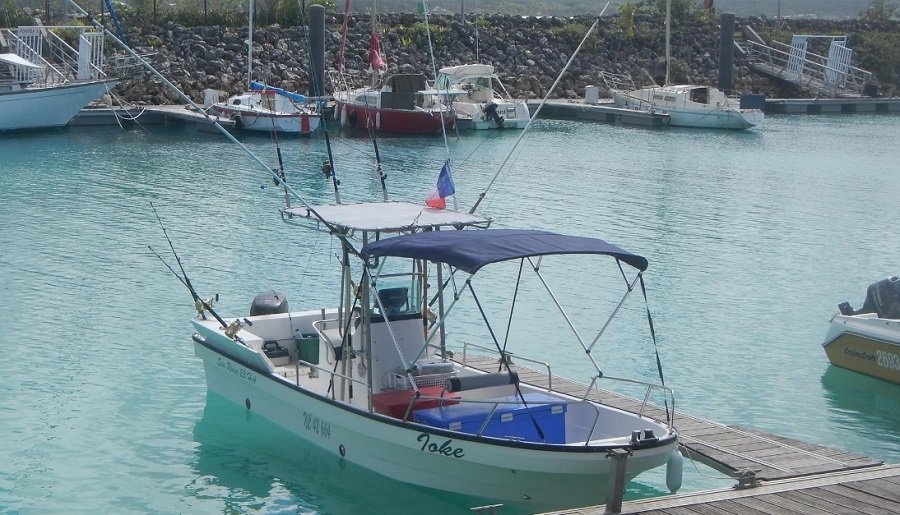 Another fishing charter to consider is the Drehu Fishing. They are one of the trusted Lifou fishing charters you can depend on. They can be little but they offer huge sport and game fishing like all you can catch fish, release buffet and jigging poping.
They have full day and half day fishing, whale watching in winter season and more. They will guarantee you of an experience you can never forget while in New Caledonia. If you are thinking of a perfect holiday, fishing or other activities, reach them at their address, Tribu de Traput, 98820, New Caledonia.
New Caledonia Fishing Safaris
Whether you are in New Caledonia for hunting or fishing, New Caledonia Fishing Safaris will never disappoint. They have a wide range of safari trips for their guests to discover the biggest lagoon in the whole world or get into the heart of the beautiful New Caledonian bush.
This fishing charter also offers sea excursion and hiking trips upon request. Their service will give their every visitor a New Caledonia experience they thought is not possible. Feel free to call them at +687 786200.
If you are looking for a fishing charter to contact, you will never get disappointed with them. Their experts can provide you all information you need so you can start with fishing at the right foot.
Their tour can make you realize how good it is to be in New Caledonia. All the activities, plus the great places to see around can make this holiday one of the best and most interesting.  
It is important that you choose the best fishing charter to ensure you will not feel disappointed at all and get the most out of this activity. Some, will try to fish alone as they think New Caledonia is a good place to fish, although true, you still need professionals to maximize the experience. You should not worry as much, as you will definitely be taken care of by these professionals.
Going to New Caledonia for a holiday will never fail you at all, and fishing can make it extra ordinary and far from other places and holidays you have been to and tried. You might have read on the internet how perfect New Caledonia is for fishing, but until you will try it yourself, you would never know how good it is to be in New Caledonia and enjoy fishing.