Looking to travel to New Caledonia and not sure what currency to take ? Then we can help. The most common currency used in New Caledonia is the  Pacific Francs (CFP). You can get this currency from any of the leading banks like BCi or even BNP Paribas. In order to change your money to New Caledonia currency you will need to show your passport.
One of the best ways to change your currency is using the local money exchange ATM, these are scatted all over major centers in New Caledonia. Make sure you are aware of the currency conversion fees and commissions charges.
New Caledonia Money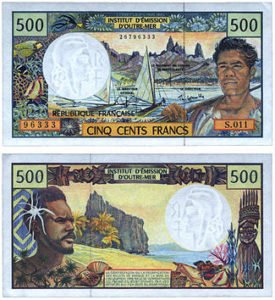 If you are traveling from New Zealand or any county make sure to take some New Caledonia currency just to be on the safe side. as you might need it to pay for your taxi or any other services after you land.
You can check out the latest exchange rates by searching "pacific francs to nzd", this will give you the latest exchange rate. This rate should be used as a guide only as when you go to convert your money, additional charges and commission will apply. The rates are subjected to change so always be prepaid and carry a bit more money just in case of emergency.
Some of the most common asked questions about New Caledonia Currency are listed below
Q : What money do they use in New Caledonia ?
A :  Official currency of New Caledonia is the Comptoirs Francais du Pacifique francs, or CFP franc
Q : Does New Caledonia offer currency exchange ?
A : Banks and specialized ATM offer currency exchange in New Caledonia.
Q : How expensive is to buy stuff in New Caledonia ?
A : New Caledonia prices for goods and services is about the same as what you will be paying locally in New Zealand.
Q : Can i use our local currency in New Caledonia ?
A : In some places you will be able to use your local currency to buy goods or pay for services, make sure to ask before you use the service.